New Puppy
This page is dedicated to pictures of our cocker spaniel puppy who was born on August 20 2004. We have named him Bertie & he arrived at our house on October 9 2004. One of his brothers from the same litter was bought by Sara's mum & dad & he has been named Dougal Jasper (name changed on Oct 12!!). Bertie's pedigree name is "Rollright Bob Middleton" & this is his pedigree certificate: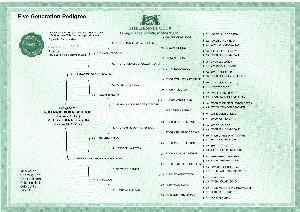 Click on the image to see a bigger version.
---
These first pictures are from when he was just under one month old & still living at the breeder's house.
---
These next pictures were taken during the weekend that Bertie first arrived at our house. You can see his brother Dougal Jasper in some of the later pictures too.
The pictures which have thick borders are links to movie clips. Just click on them in the normal way & the movie file should eventually open up. Alternatively you can right click on the picture, click on "save target as" & then save the file on your computer to open up later. The files are all about 6.8Mb so they may take a while to download, especially if you are using dial up to access the internet.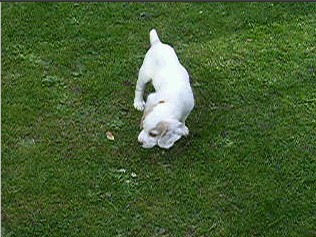 ---
I took these photos with my camera phone on 11/12/04. I think Bertie looks cute in these.
---
This next set of pictures were taken on 17/02/05 when the puppies were just two days short of being 6 months old. You can see a huge difference in their size if you compare these pictures to those above. The pictures were taken at Cowleaze Wood near Stokenchurch where we often take the dogs for a walk. Click here to visit the Forestry Commission web page related to Cowleaze Wood.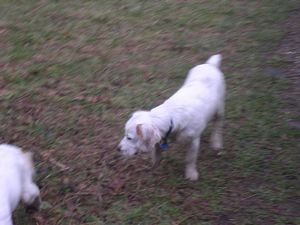 ---
Click on the photo below to go to a web page containing pictures of Bertie taken in the snow on Feb 23 2005 & on Feb 27 2005.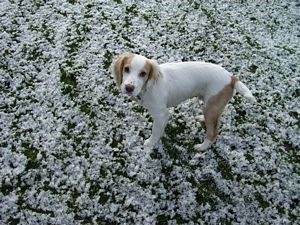 ---
Click HERE to see pictures taken on Bertie & Jasper's 1st birthday.
---
SHORTCUTS