Legoland
On 07/08/02 we went to Legoland in Windsor. I think this was possibly our 4th or 5th visit.
Click on the thumbnails to see the full size image.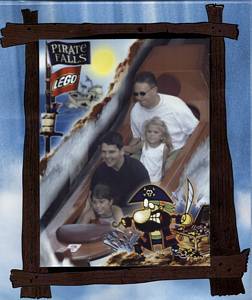 This first picture was taken as we went down the ramp into the water on the log flume (Pirate Falls).
The looks on the kids' faces are brilliant!
The "Pirate Falls" log flume. As soon as we hit the water Litty said "I want mummy"!
The "Dragon's Apprentice" ride. Litty loved this so much she went on it twice!
On the "Fairy Tale Brook" Ride
On the "Balloon School" ride
Chairoplanes
"Waterworks"
---
SHORTCUTS