Family Reunion
In August 2002 some relatives from Montrose New York came to the UK for a visit. Susan is Richard's dad's uncle's daughter, so we think that makes her Richard's 2nd cousin (although we could be wrong!). Traveling with her were her husband, Craig, & her two boys, Thomas & Christopher. On Aug 23 we took over the restaurant at the Three Horseshoes in Towersey & had dinner along with a few family friends (21 people in total). On Aug 25 we had a family barbecue at Richard's mum & dad's house. There were around 20 people there, but not the same 20 people who went to dinner two days before! Confused? Well you should be able to see who was at which function when you check out the pictures below!
As always, click on the thumbnail to see the full size image.
---
Dinner at the Three Horseshoes August 23 2002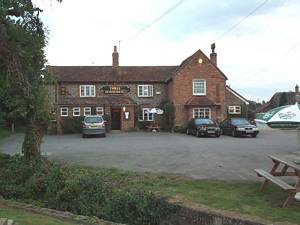 All these pictures were taken by Craig.
This is where the dinner took place.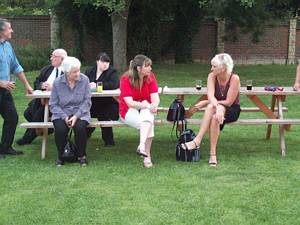 Ruby, Linda & Carol in the pub garden.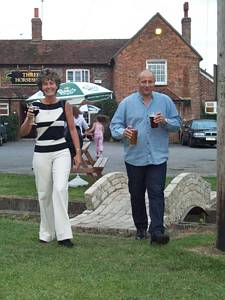 Sue & Mick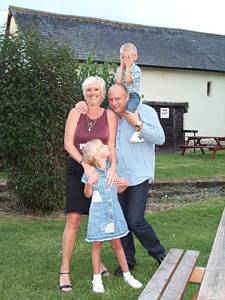 Mick, Carol, Holli-Ann & Aiden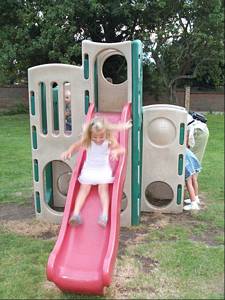 Felicity on the slide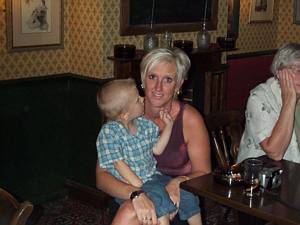 Carol & Aiden (with Granny Pat in the background)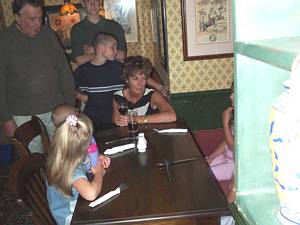 Sue, Felicity & Aiden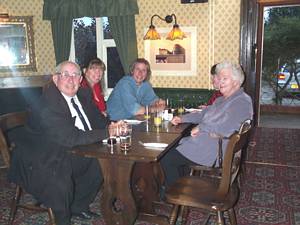 Chunky & family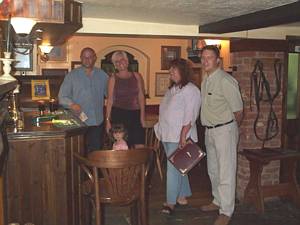 Mick, Carol, Sara, Richard & Isobel at the bar.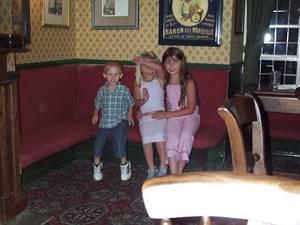 Aiden, Felicity & Ellen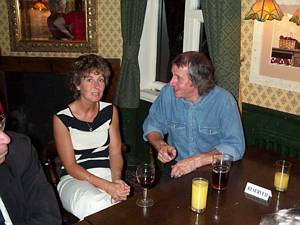 Chunky & Sue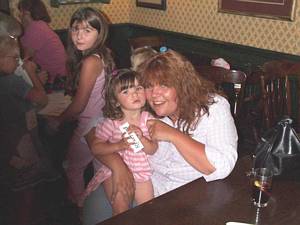 Sara & Isobel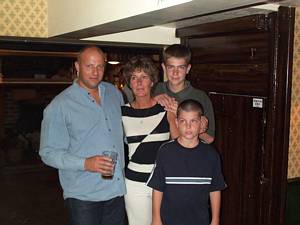 Mick, Sue, Tom & Chris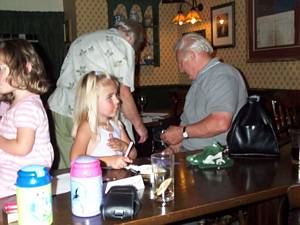 Felicity with Isobel, Granny Pat & Grampy Eric in the background.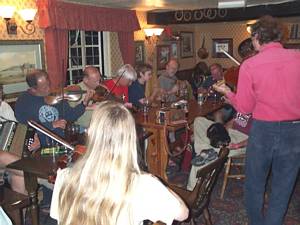 It was Towersey Festival weekend so we were treated to an impromptu
performance from some of the musicians performing at the festival.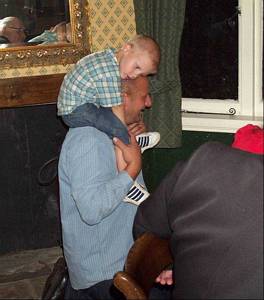 Aiden & Mick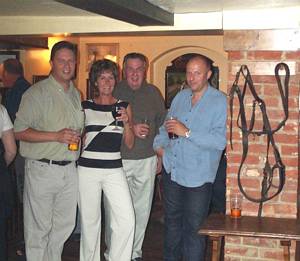 Richard, Sue, Bert & Mick at the bar (what a surprise)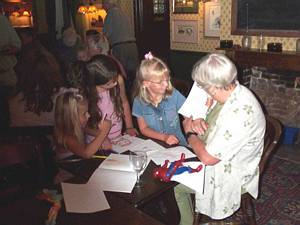 Pat with some of her grandchildren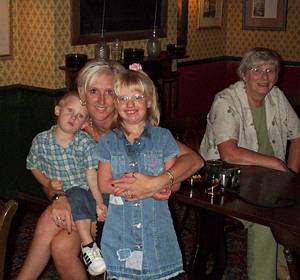 Aiden, Carol & Holli-Ann (Pat's in the background)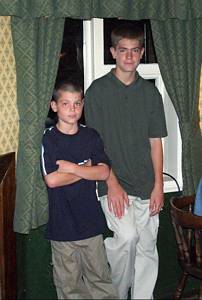 Tom & Chris. They look happy, don't they?!
---
Barbecue at Pat & Eric's Country Residence August 25 2002
These pictures were taken by Richard & Craig. If it's a good photo then it must be one of Richard's. The crap ones are Craig's!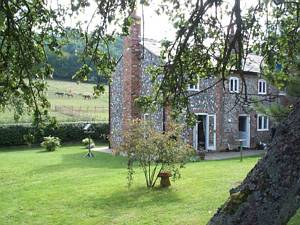 This is where it all happened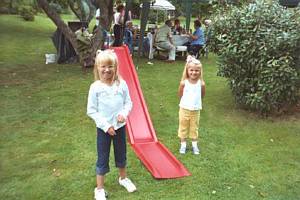 Holli-Ann & Felicity
Mick the chef!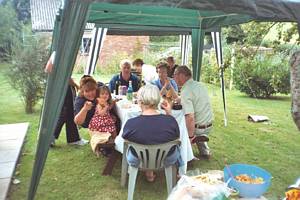 Having lunch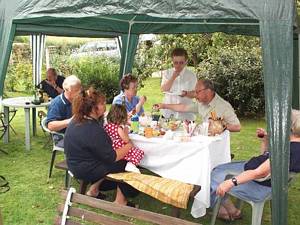 Having more lunch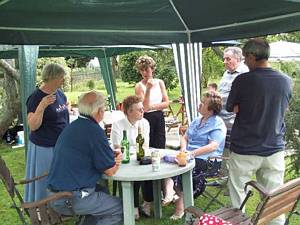 Everybody's looking very serious!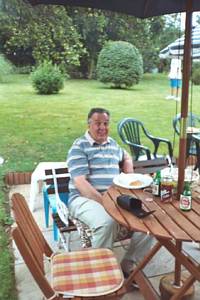 That's it, you take it easy Bert!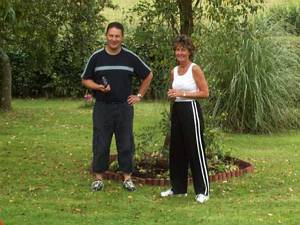 Richard & Susan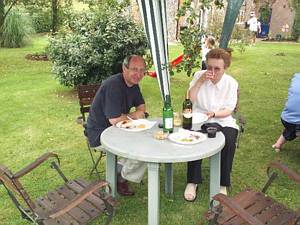 Robert & Alison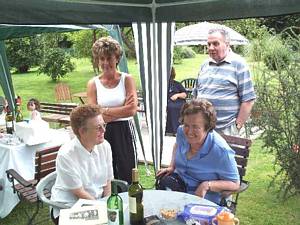 Alison, Dawn, Bert & Susan.
The garden's big enough to play baseball in!
...or at least you can try to!
Take 1.........................................Take 2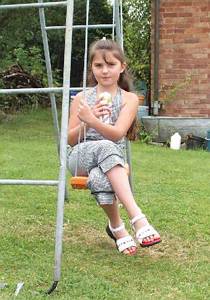 Ellen. That looks like a can of Stella, but it's not I promise!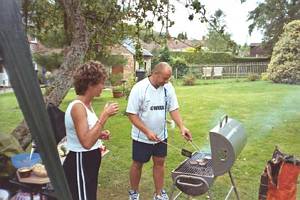 Suddenly he's master chef!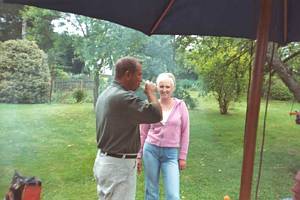 Craig & Carol
Aiden & Felicity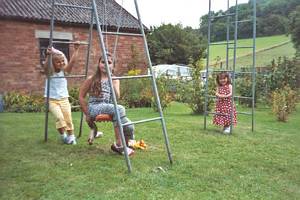 Felicity, Ellen & Isobel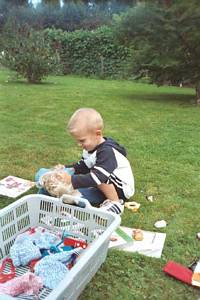 Aiden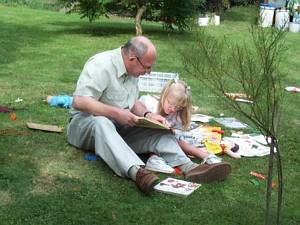 Stuart & Holli-Ann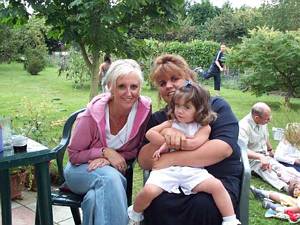 Carol, Sara & Isobel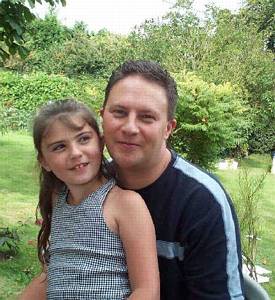 Ellen & Richard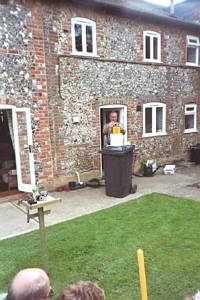 Craig setting up the family photo.........20 minutes later.......
........here's the result!
Sara & Ellen........& Isobel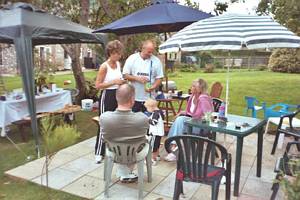 Craig, Susan, Mick & Carol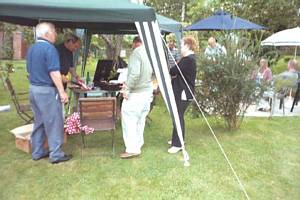 Checking out the gramophone!
Felicity
---
SHORTCUTS